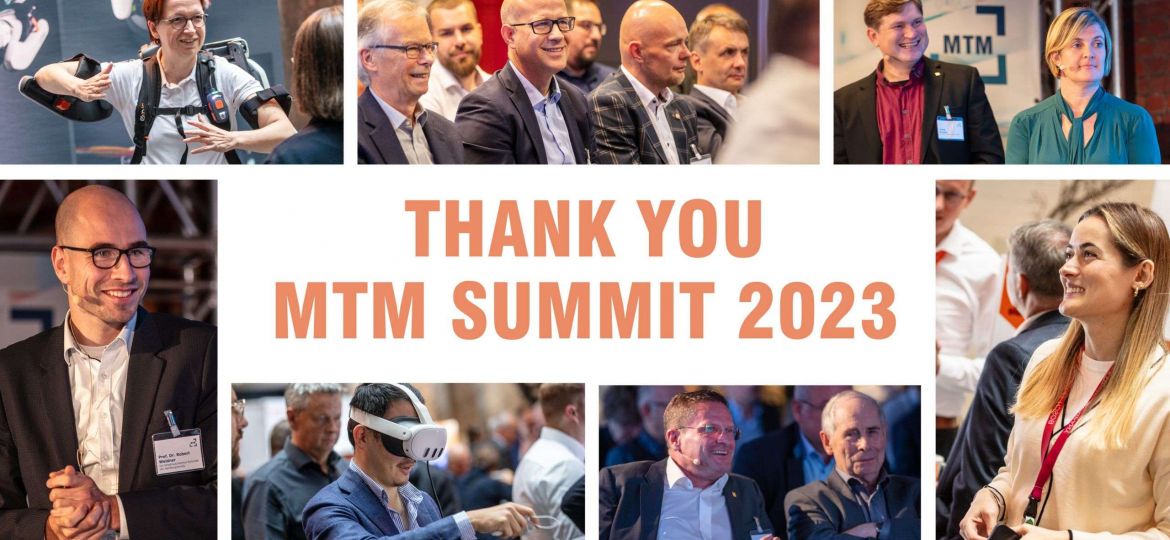 700 participants from 25 countries, MTM enthusiasts and partners from business and science made the MTM SUMMIT 2023 a great event. A big thank you to everyone who attended! We are pleased that the conference program around the topic Methods-Time Measurement – prospective, digital, global, the inspiring keynotes, the exciting discussion rounds, the exhibitors' service portfolio and the many opportunities to share experiences and network struck a chord with the specialist audience. This is also reflected in the feedback on social media. It was great to see what the MTM community and people interested in the topic of work design posted, liked, shared and commented on.
THE MTM SUMMIT 2023 in words, pictures and sound
If you would like to relive the MTM SUMMIT 2023 in words, pictures and sound, you have the following options:
Online participants log in to the event platform with their access data. The recordings can be found at the location of the live stream. The platform will be available until the end of November.
Attendees who did not have online access can access the recordings on our YouTube channel.
Outlook for the MTM event year 2024
The 2023 MTM event year is almost over – and we are already preparing for the highlights of 2024. Here are some important dates that you should make a note of in your calendar:
March 14-15, 2024
The German lean community is heading to Mannheim for LATC2024 – and the MTM ASSOCIATION e. V. will be there again, this time together with our technology partner MotionMiners GmbH. At our themed area, the Lean Community will experience an exciting mix of information and practical applications relating to digital work planning. The focus will be on technologies that make the daily work of work planners and lean managers easier today and in the future.
June 12-13, 2024
Innovative software solutions for Work measurement, ergonomics evaluation and design as well as development trends in the industry will be the focus of TiCon User's Day 2024 on June 12-13, 2024 at the Gläserne Manufaktur Dresden. With this separate date, TiCon User's Day is continuing the tradition of TiCon and administrator meetings.
October 16-17, 2024
The next big meeting of the global MTM community will take place on October 16-17, 2024 – on-site in Hamburg and online. The MTM SUMMIT 2024 – International Human Work Forum – will focus on digital work planning, technology transfer and artificial intelligence in industrial engineering.
You cahttp://mtm.orgn also visit us on our website mtm.org.