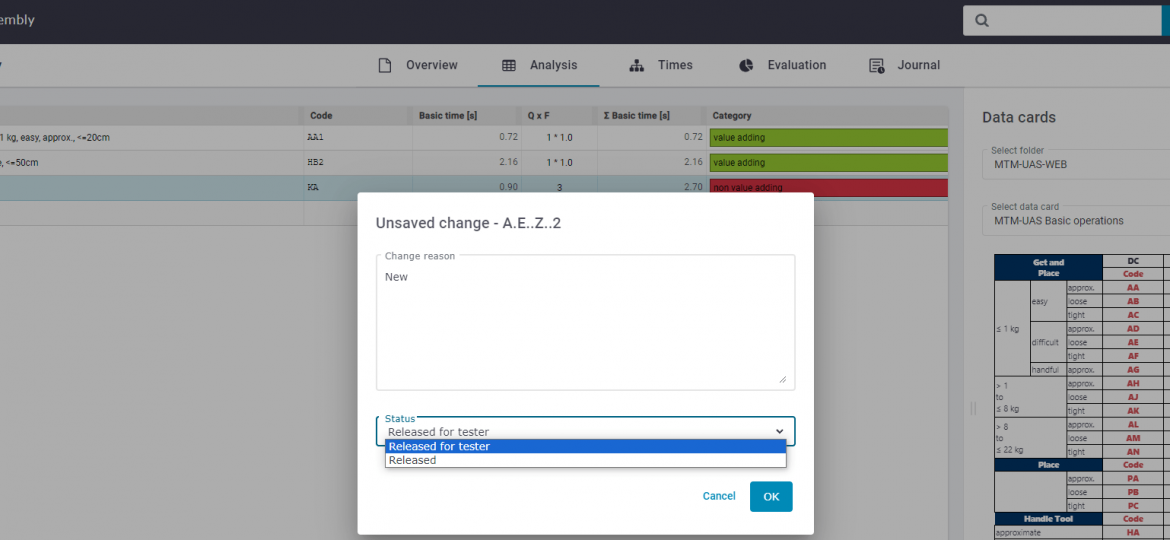 The integration of the process building block systems MTM-UAS®, MTM-MEK® (Single and Small Batch Production), MTM-VI (Visual Inspection) and MTM-LOG® (Logistics), the display of value-adding and non-value-adding time components as well as the possibility to enter individual overhead costs on all levels are features that went live with the latest update of TiCon for Web. Release 1.5 of the web application from the Digital Solutions division of Deutsche MTM-Gesellschaft mbH now provides customers with additional and improved functions.
The most important change or improvement is the switch from implicit (permanent) to explicit (manually triggered) storage. This means that unintentional overwriting of original documents is now a thing of the past. Release 1.5 also includes the following new features:
Journal / Change History
This feature allows the user to track the records or changes made to a project.
Time Update / Time Tracking
Time is automatically tracked at multiple levels. This provides even better support for collaborative and fast work.
Sidebar Search
The Sidebar Search allows users to search for any saved or user-created process module and insert it directly into the open analysis.
Paging
Paging ensures a faster and clearer display of search results, which has a positive effect on the performance of TiCon for Web.
Search function
The search function has been significantly improved, especially on the API side.
The development team of the Digital Solutions business unit is currently working on the integration of the BMW process building block system BMW Group SD in TiCon for Web and TiCon for Windows. This includes the data cards Master Data, Multipurpose Values and Logistics, each in German and English. You can read more about this in our blog in due course.
If you have any questions about the TiCon for Web update, please contact the team by e-mail at digital.solutions@mtm.org.