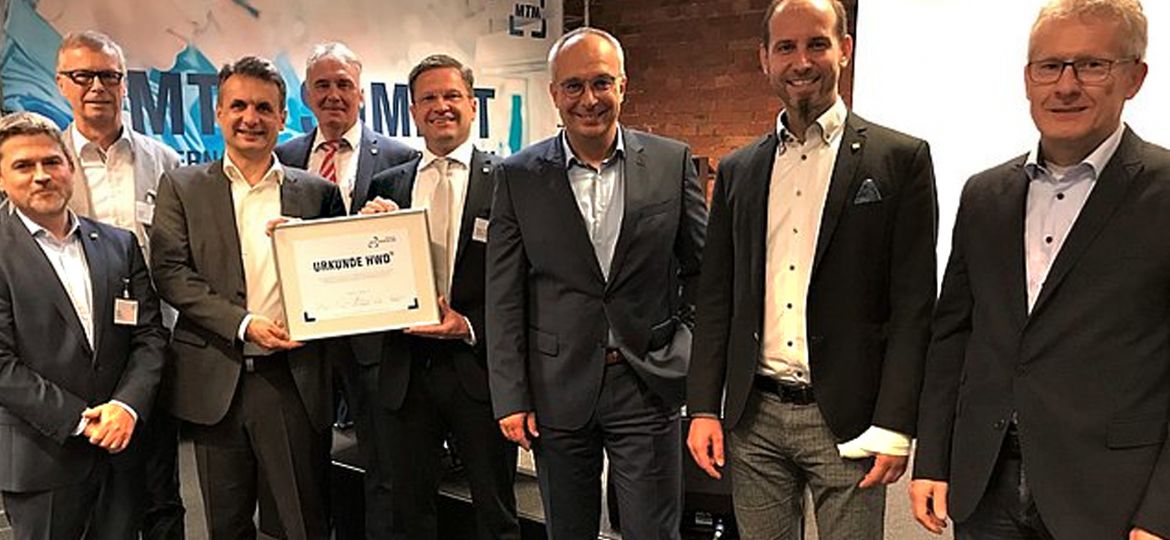 Consortium partners hand over results of HWD® development project to MTM ASSOCIATION e. V.
Knuth Jasker, former managing director of Deutsche MTM-Gesellschaft mbH and co-developer of the new MTM-HWD® process building block system, described the official handover of the results of the Human Work Design (HWD®) development project to MTM ASSOCIATION e. V. as a "historic moment for industrial engineering". The project steering committee could not have chosen a better setting: The process building block system, which for the first time combines methodical and ergonomic work design in just one step, was one of the top topics of MTM SUMMIT 2021. Speakers from the consortium partners, as well as science partners and users from the IT sector, made clear the benefits of MTM-HWD® in planning the work systems of the future.
Martin Haselhuhn, Head of Industrial Engineering at the Volkswagen Group and member of the board of the MTM ASSOCIATION e. V., took the stage at the Hamburg guest plant on behalf of all consortium partners, authorized users and the many supporters during the nine years of the project. He went over the milestones of the project and the state of affairs at Volkswagen as the initiating company. There is still a long way to go before MTM-HWD® can be rolled out across the group and the modular system can be integrated into future vehicle projects. But there is no question that MTM-HWD® will be an essential building block for purely digitally planned workflows, says Haselhuhn. "It wouldn't even work without MTM-HWD."
"Milestone to (partially) autonomous process planning"
Dr. Johannes Sternatz, Head of Group Industrial Engineering Method and Ergonomics at Volkswagen, had also emphasized the importance of MTM-HWD® as a key method for the digital description of human work in his previous presentation. MTM-HWD®, he said, is an important milestone for (partially) autonomous process planning, for example in simultaneous time and ergonomics assessment or in workplace simulation with automated HWD process description in ema, the digital human model of imk automotive GmbH.

Reliable statements on temporal and ergonomic load
In the 2020s, the way work is designed at Volkswagen will change dramatically, according to Dr. Sternatz. Planning and optimization workshops would no longer take place on site at the real prototype, but by visualizing the product in a 3D or VR environment. Augmented and virtual reality will be important to bring all those involved in the planning process together in a virtual space in the future and design the workstations there, Dr. Sternatz said. For all changes in the work systems, however, reliable methods are needed that allow reliable statements to be made about how great the time and ergonomic strain on an employee is – "only MTM-HWD can do that!" MTM-HWD® marks the beginning of a new era of work design at VW, said Dr. Sternatz.

Explain benefits and create trust
For Martin Haselhuhn, Head of Group IE, this new era entails the need to explain the benefits of MTM-HWD® time and again and to create the necessary trust among employees and social partners "that MTM-HWD is the future of digital work design". This is a major communicative task, Haselhuhn emphasized, both internally within the company and externally in the MTM community – first and foremost the MTM ASSOCIATION e. V., which, in addition to MTM-HWD® training up to the "Blue Card" level, can now also issue teaching licenses for the MTM-HWD® process building block system to all interested instructors worldwide.

MTM ASSOCIATION e. V. stands for industrial application worldwide
Prof. Dr. Peter Kuhlang, CEO of MTM ASSOCIATION e. V. and host of MTM SUMMIT 2021, picked up on the idea of "trust". "Our job now is to build that trust with the structure we have, with the seriousness with which we develop and maintain MTM building block systems, and with the reliability of the standard performance behind it," Kuhlang noted. He sees a second challenge in implementation in the digital world. He added that the MTM ASSOCIATION e. V. has also created the necessary structures for this. "We will take responsibility there – not only for us, but for the industrial application of MTM-HWD worldwide."

Great interest in MTM-HWD® online session
"MTM-HWD® is the result of nearly 100 people directly involved, 9 years of development work, 4 working groups with more than 150 days of meetings, documented on more than 1,000 pages of working group minutes, 52 steering group meetings, 375 guiding steering group decisions and about 500 pages of steering group minutes" – this special insight into the Human Work Design development project is owed to project manager Jörg Härtel, who always held the reins firmly in his hands. In his words of thanks, he also did not forget to mention a person who played a major role in the development work: Dr. Thomas Finsterbusch, Head of MTM Academy.

Finsterbusch, a true practitioner, made a very special offer to those interested in HWD® at the MTM SUMMIT 2021: the online session "Get in touch with HWD® developers". A total of 40 participants took advantage of the opportunity to learn first-hand about the new process building block system, which produces four results at once with a single analysis: Process description, time, ergonomics and the productivity indicator eHpU (engineered Hours per Unit).

You are interested in the application of MTM-HWD® and want to learn more?
Your contact on MTM ASSOCIATION e. V.:
Dr. Thomas Finsterbusch
E-mail: thomas.finsterbusch@mtm.org

Training dates for MTM-HWD® (webinars and classroom courses) can be found at training.mtm.org

The presentations of the MTM SUMMIT 2021 are archived in IRAS.