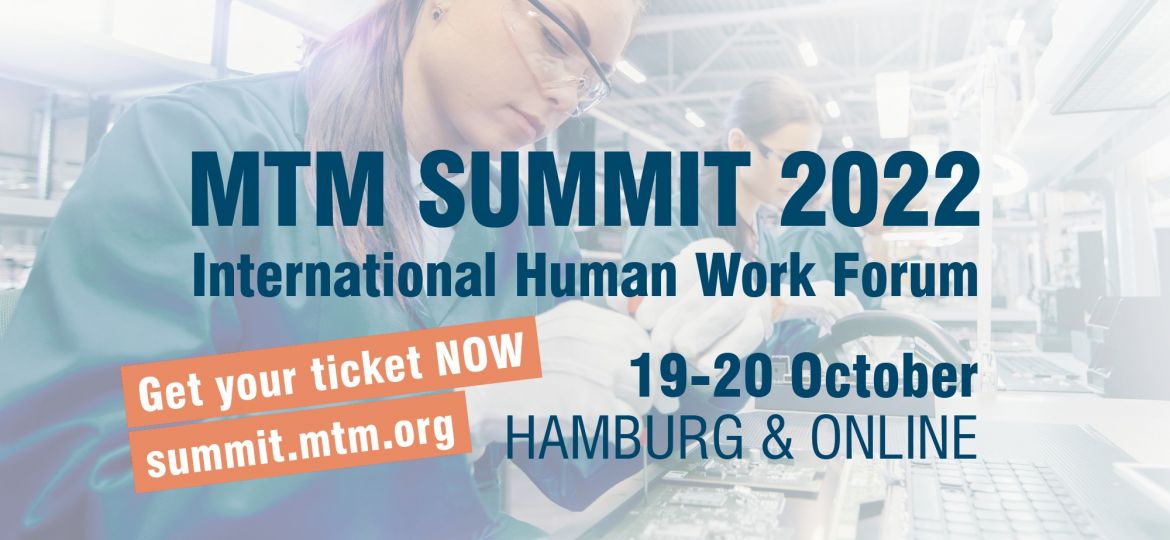 Preparations for the MTM SUMMIT – International Human Work Forum on October 19 and 20, 2022 are in full swing. 32 presentations and sessions are planned, 43 speakers and experts from 26 industrial companies, software providers and institutions have confirmed their participation.
These are our TOP topics:
Standards for intelligently networked IE systems
Managing productivity in indirect areas
Lean Assessment with MTM-Easy
Motion data and machine learning
Potentials of active exoskeletons
Workforce planning in SAP
New technologies for digital work planning
There will also be panel discussions on the topics of lean and digital work planning, as well as a trade exhibition with presentations and demonstrations of new technologies for digital work planning. Participating are:
Whether you attend on-site at the Gastwerk Hotel Hamburg or secure a free online ticket – you'll be there live at the MTM SUMMIT 2022! If you want to join us on the go, simply book a free online ticket and download our event app.
Your benefits at a glance:
Two days of MTM SUMMIT presentations incl. EAWS International Symposium (EIS) – via browser or app
Live stream with simultaneous translation German/English
One-day or two-day ticket in presence until 07.10.2022 on summit.mtm.org
FREE online ticket until 17.10.2022 at summit.mtm.org
Your extra when attending in presence at Gastwerk Hotel Hamburg:
Exhibition + Conference Dinner + Networking
Your extra for online participation at summit.mtm.org:
virtual trade exhibition + recordings 24/2 + additional online offer + chat
All information on the lecture program and the speakers can be found at summit.mtm.org.
NOTE: Should there again be restrictions on the implementation of the on-site event in October, the corresponding provisions of the location in Hamburg will apply. Please note the cancellation conditions for your individual travel booking.
Inquiries gladly by e-mail to summit@mtm.org