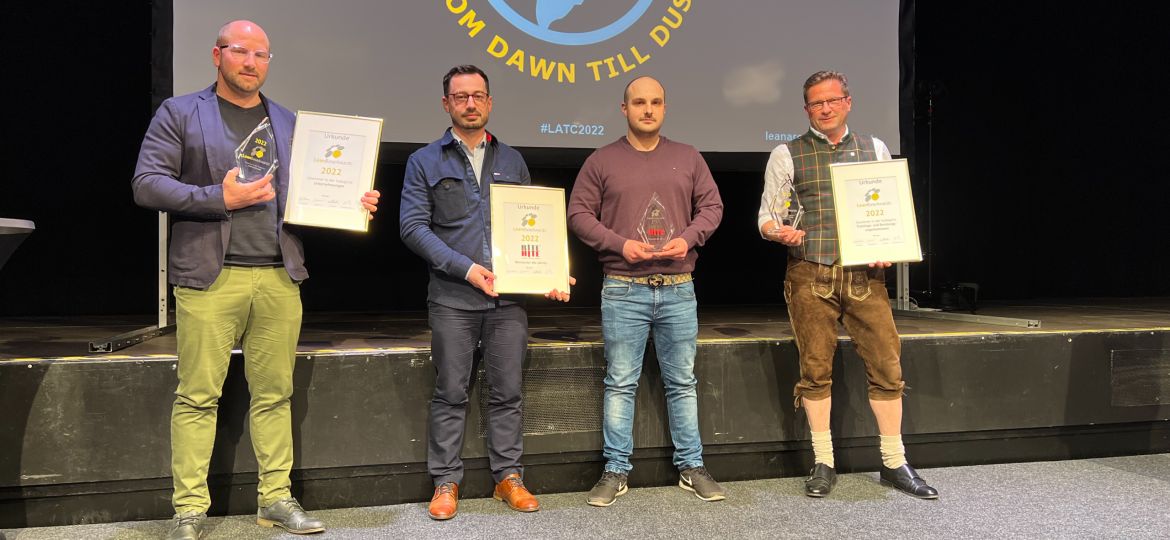 In picture (from left): Eric Kalinowski, Uhlmann Pac-Systeme GmbH & Co. KG, Arber Nokaj and Alexander Neumann, Rite Hite GmbH, Prof. Dr. Peter Kuhlang, MTM ASSOCIATION e. V.
We had already heard that the meetings of the German Lean Community were a bit different. But we didn't expect the bear to tap-dance in every respect. The icing on the cake at LATC 2022 was the LeanBaseAwards. In the training and consulting organization category, the prize went to the MTM ASSOCIATION e. V.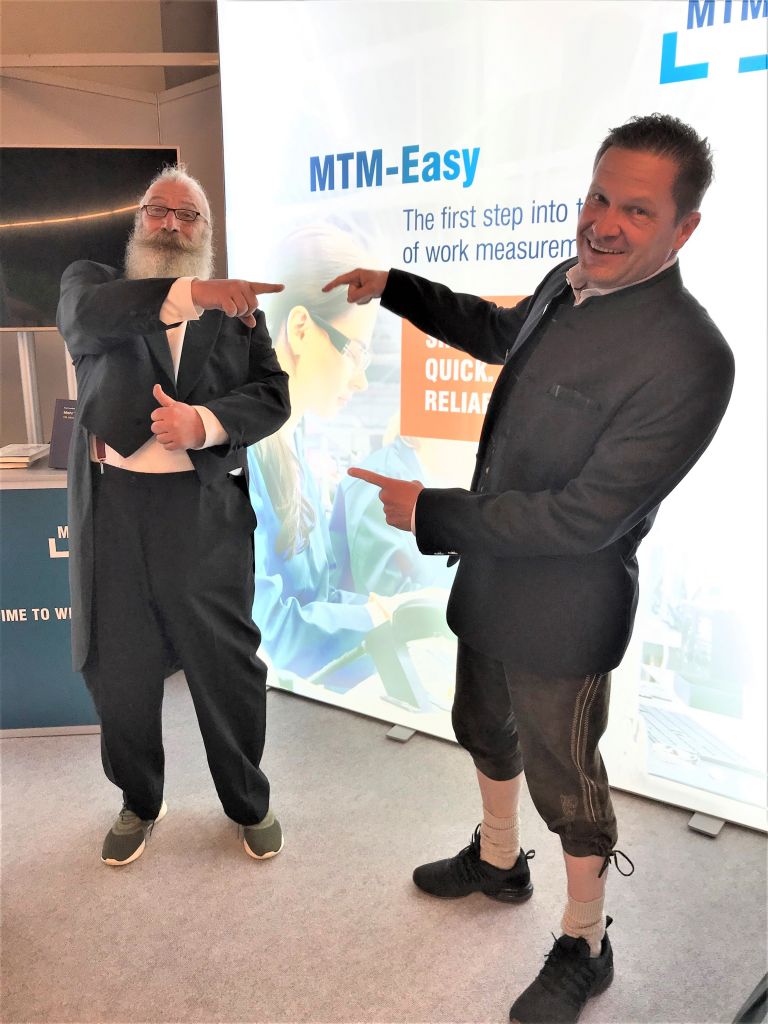 In picture: Ralf Volkmer (left) and Prof. Dr. Peter Kuhlang
In the evening there was a party that was a bit slimmed down due to the hygiene requirements, but was also by far more than a surprise. On day 2, the equally surprising continuation: namely at 7 a.m. (at "normal" LATC times at 6 a.m.). And even then, the Lean Community was wide awake again and ready for new action.
We felt completely comfortable as participants, as exhibitors and as speakers on the subject of MTM – a big thank you once again to the entire LeanBase team. Above all, we would like to thank those who voted for the LeanBaseAwards 2022 for the MTM ASSOCIATION e. V. have voted. We are super proud to be an award winner in the "Training and Consulting Organization" category – certificate, cup and the LATC mascot "Es" have already found a place of honor in the MTM office in Hamburg. Uhlmann Pac-Systems GmbH & Co. KG received the most votes in the "Enterprises" category. The Newcomer Prize went to Rite Hite GmbH. Congratulations to all the winners and of course to the other finalists.
We applied for the LeanBaseAward 2022 with the MTM-Easy® concept, which enables SMEs in particular to take a closer look at processes and workflows as part of their lean management and CIP activities. The decisive difference to other methods of time determination: with MTM (Methods-Time Measurement), workflows can be evaluated in terms of time before the work system even exists. "MTM and MTM-Easy® are a useful addition to the canon of lean methods," emphasized Prof. Dr. Peter Kuhlang, CEO of MTM ASSOCIATION e. V., who accepted the LeanBaseAward from Ralf Volkmer. That's what they wanted to convey to the participants of the LATC. "Lean and MTM – sounds like a dream team I would say."
Here are the next opportunities to experience the Dream Team:
On May 24th, 2022 there will be the LeanDigitalConference on the topic "Lean Work – efficien and ergonomic design" live from the LeanTV studio in Mannheim. Program and registration here.
On the 19th/20th October 2022, the MTM community – and hopefully many guests from the lean community – will meet at the MTM SUMMIT 2022. Then, too, everything will revolve around "lean work". Program and registration will be available soon on summit.mtm.org.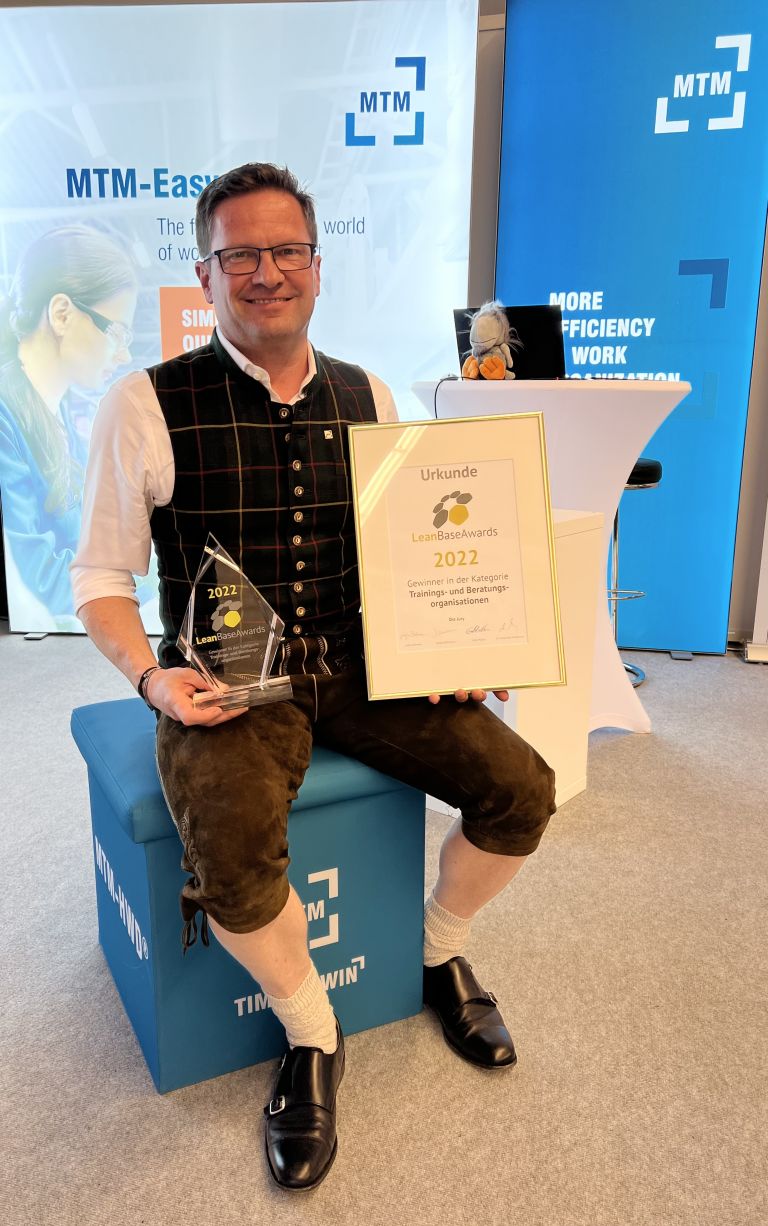 In picture: Prof. Dr. Peter Kuhlang