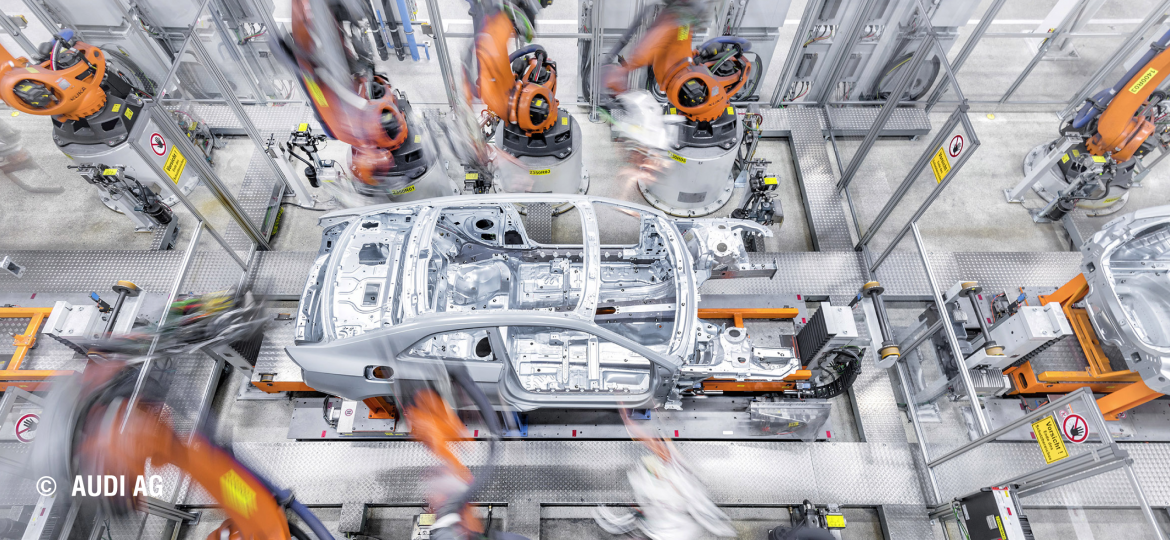 2019 MTM and TiCon Users' Conference: "Excellence in Manufacturing"
When engineers at Audi talk about the future, digitalization plays an extremely prominent role. Industrial engineering cannot escape the issue of constantly reviewing the quality and efficiency of its processes either. However, how can IE meet all the requirements? Audi has now developed a new kind of approach in conjunction with Deutsche MTM-Vereinigung e. V. and other partners in order to press ahead with the digital revolution in Industrial Engineering 4.0. Dr. Ralph Hensel-Unger, IE planner at Audi AG, will be presenting this approach at the MTM and TiCon Users' Conference in Heilbronn on 9–10 May 2019.
 
Dr. Hensel-Unger, what has changed for industrial engineering and what is still just around the corner? 
Digitalization is completely turning the work of IE experts on its head. They are no longer just dealing with the real world, but now need to actually establish a link between the real and virtual worlds. Audi will be planning its future vehicles without building any prototypes, i.e. simply on the basis of CAD data. This will no longer be possible without using digital planning tools. The process of digital change is irreversible and is progressing at an increasingly rapid pace – so there is only one alternative for industrial engineers: they have to keep up with developments and be one step ahead, if at all possible.
 
What does being "one step ahead" mean for you personally?
Reliable data forms the basis for any design. That won't change with digitalization either. The real question that we face is how efficiently we will be able to gather and process data in the future. Any Industrial Engineer 4.0 will no longer prepare a classic MTM or planning analysis, but make use of movement data that has been recorded by automated means to provide a simulation analysis. I believe that the MTM-HWD® process building block system (HWD – Human Work Design), which Audi, Daimler, Miele, Volkswagen and MTM have developed together, will play a key role here. This process not only provides the chronological process description, but also a time and ergonomic assessment – and all of this is process information that is required to be able to plan things digitally. MTM-HWD® therefore enables us to build a bridge between the real and digital worlds – and no other process can do that.
You're talking about MTM-HWD® as a lingua franca. But it's really a common language, which enables communications in a particular specialist field across different language regions. What makes MTM-HWD® a lingua franca?
The analogy is obvious. Firstly, because MTM-HWD® is universally comprehensible, thanks to its use of pictograms (instead of codes). Audi, for example, manufactures vehicles on different continents – and MTM-HWD® enables us to act in a very different way internationally in terms of process planning. The second reason for calling it a lingua franca is this: On the basis of MTM-HWD®, it is possible to generate a targeted, parameterized data flow that can be further processed digitally. That is to say, MTM-HWD® represents a standardized description logic – which is the precise definition of a lingua franca.
 
Does industrial engineering need to undergo a revolution, in your view?
It does not have to, but it will revolutionize itself! Digitalization is not something that is an isolated event – it provides a comprehensive and fundamental change in business and society – and IE won't be able to escape this either. It will be necessary to develop completely new methods, newly conceive planning processes and even initiate new models of cooperation. By the way, this change needs to start during university courses too. What industrial or mechanical engineers learned just a few years ago is definitely no longer sufficient. Completely new demands are being placed on the skills of industrial engineers too.
 
Why should industrial engineers and IT administrators attend the 2019 Users' Conference?
To discover what will be essential for their work in Industry 4.0 in the future. And MTM-HWD® is a fundamentally new procedure – it is worthwhile getting on board!
 
How far has Audi got in developing systems with MTM-HWD®?
I believe that we'll have our first good pilot schemes available in about one year from now. Pilot testing is taking place in close coordination with the employees' representatives and involves tapping into the benefits of MTM-HWD® in terms of product and process design. We need digital simulation tools for this. We then have to link all this to the internal systems and transfer the process to our standard operations. Even more time will pass until this has arrived at the production line. But we'll certainly have our first viable solutions in one year's time. What's certain is that no industrial engineer will ever have to write an MTM-HWD® analysis themselves. It will all be digital…