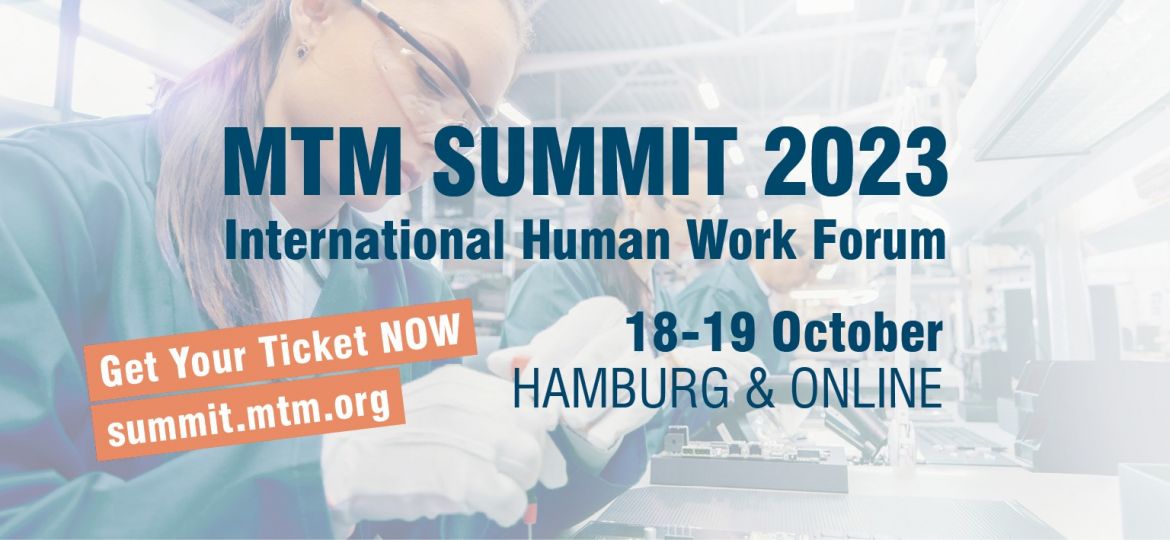 On October 18 and 19, 2023, the MTM community will meet for the MTM SUMMIT – International Human Work Forum in Hamburg and online at summit.mtm.org. This year, the focus of the MTM ASSOCIATION e. V. event will be on the methodology.
Renowned MTM and IE experts from Siemens, Daimler Truck, Mercedes-Benz, SICK, Volkswagen and Brüggen Oberflächen- und Systemlieferant, among others, will present the best practices of MTM application in their companies. IT specialists from SAP, among others, as well as providers of software solutions for digital work planning such as imk industrial intellicence, exoIQ, TAKTIQ and Halocline will report on the successes of the technology partnership with the MTM ASSOCIATION e. V. and its subsidiary Deutsche MTM-Gesellschaft mbH.
THESE ARE THE MAIN TOPICS OF THE MTM SUMMIT 2023
Introduction and application of MTM from a global perspective
Human vs. assistance system
Time data determination from the small assembly to the construction site
From C-values to MTM-UAS® and MTM-MEK®
Integration of TiCon into SAP BTP
E-Learning cooperated by…
Transformation of the production organization
KI LECTURE LIVE FROM SILICON VALLEY
There will be forward-looking presentations on the application of artificial intelligence. Michael Wiesinger from Kodiak Robotics reports live from Silicon Valley on the development of autonomous driving using the example of driverless trucks. In a panel discussion, experts from Robert Bosch, Brose, SICK, Volkswagen and Grupo Sesé will provide insights into the work of internal MTM instructors.
Embedded in the MTM SUMMIT 2023 program this year is once again the EAWS International Symposium (EIS). It will take place on October 18 from 4 to 6 pm. Environment, social and governance, or ESG for short (Environment, Social, Governance), are important factors for the long-term value creation and risk management of companies, especially in times of constant change. The EAWS International Symposium 2023 focuses on the factor S, Social, in the manufacturing industry. The main topic is GOOD PRODUCTIVITY. Accordingly, the motto of the EIS 2023 is: ESG Strategy for Manufacturing – THE WAY TO GOOD PRODUCTIVITY. The language of the presentation is English. Further information on the EIS can be found here.
SPECIAL FOR MAINTENANCE CUSTOMERS: TICON USER'S DAY 2023
A comprehensive insight into innovations in our standard software TiCon is provided by the TiCon User's Day 2023 on the afternoon of October 19, 2023. This is one and a half hours of compact information on site in Hamburg and in a live stream on summit.mtm.org. The offer is aimed in particular at maintenance customers of the Digital Solutions business unit.
More good reasons to participate in MTM SUMMIT 2023:
The online ticket is free of charge again this year. For the live stream, we offer simultaneous translation German / English on both days. A rustic get-together with special guests awaits the participants on site. Exciting presentations, intensive networking, a digital social program with live chats, and an accompanying trade exhibition on site and at summit.mtm.org will make the MTM SUMMIT 2023 a special experience.
All information about the MTM SUMMIT 2023, registration and tickets at summit.mtm.org. If you have any questions, please send an e-mail to summit@mtm.org.